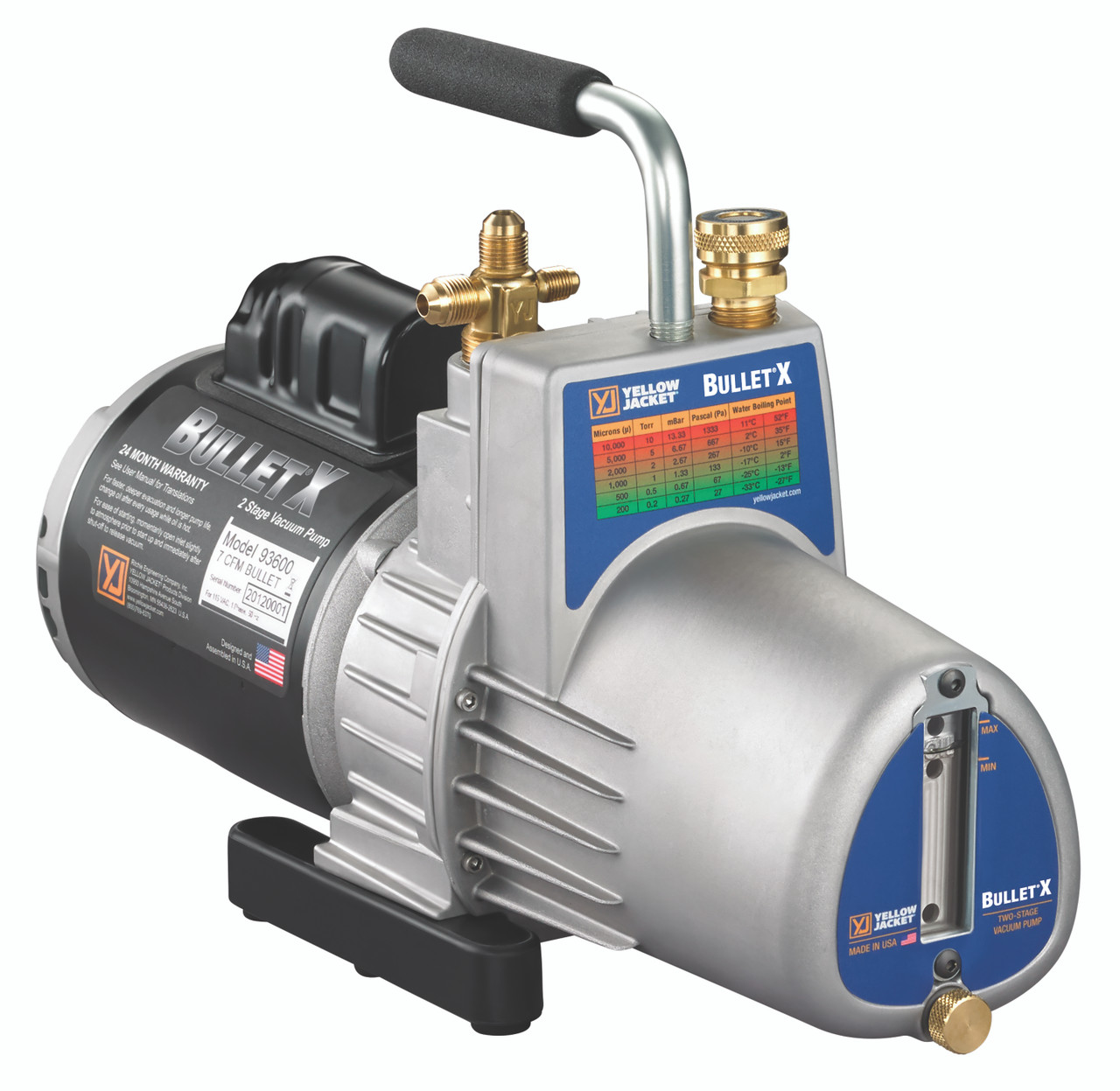 Vacuum pumps are crucial equipment for HVAC technicians. They are used to remove air and gasses from an AC system before refrigerant is added. They should be high-quality, especially since they require oil. They should have a sight glass to see the oil level and isolation valves to control the vacuum level.
1. CPS VP6D
The VP6D is part of the Pro-Set Premium Series vacuum pump line. It is a 6 CFM two stage unit with a versatile dual voltage 1/2 HP motor. It boasts the same high quality, high value features engineered into all CPS Pro-Set vacuum pumps providing performance excellence and years of reliable service. The VP6D has multiple port connections for your operational preferences and is equipped with a large oil sight glass to simplify oil change maintenance. It also has a proprietary gas ballast valve and a hard rubber base granting extreme shock resistance and vibration absorption for smoother operation. It can be run on either 115 or 230 volts and is overload protected. It accepts 1/4″ SAE, 3/8″ SAE or 1/2″ ACME intake fittings.
The ultimate vacuum is as low as 10 microns making this an excellent pump for air conditioning and refrigeration service.
2. Robinair 15310
The Robinair 15310 VacuMaster Single-Stage vacuum pump is engineered to increase productivity through fast and thorough evacuation of air and moisture. It features a single stage rotary vane design and 8.5 ounce oil capacity for maximum performance. This pump is designed specifically for use in air conditioning and refrigeration service. It features a 1/4 HP, 110V/60Hz thermally protected motor; an inlet fitting that is engineered for maximum airflow while preventing oil backflow; finned aluminum surfaces that dissipate heat faster (keeping the pump cooler and extending its life); an easy to read sight glass; an angled oil drain valve for faster, more complete reservoir draining; non-skid feet and a "No Hassle" over the counter replacement warranty. Includes a hose.
Designed for use in air conditioning and refrigeration service.
4. Fieldpiece Vp85
The VP85 is an 8 CFM vacuum pump that shortens evacuation times on new systems and repairs. It features a large oil reservoir window to get a clear view of the condition of the oil and the system, while its RunQuick Oil Change System lets you replace the oil on the fly in under 20 seconds—even with the pump running—without losing vacuum.
The pump also has an anti-oil suckback feature to keep oil from getting in gauges and the system, and it has a backlit oil tank window that helps you easily see the oil condition. Four in-line ports offer easy hose routing for three different sizes, while an extra wide base helps prevent tipping.
It also includes a power cord that clips to the handle for tangle-free storage and can operate at voltage drops from long extension cords, making it easier to carry up or down ladders. Best HVAC vacuum pumps