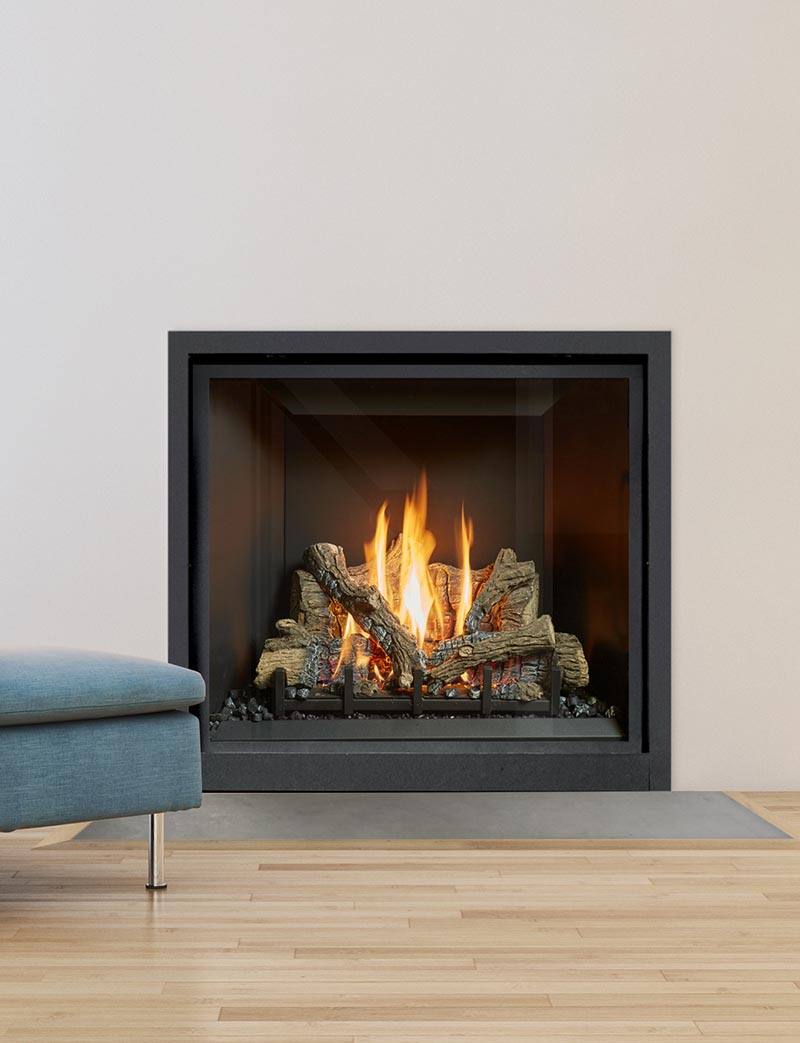 A fireplace adds a touch of class and elegance to any living space. Whether you're looking to replace your existing wood fire or simply add some warmth, a Lopi gas fireplace is a great choice!
Currently available in three models, the ProBuilder(tm) Linear series represents Lopi's entry level linear gas fireplace range. These gas heaters fireplaces offer a more affordable heating solution than any of our premium model linear fireplaces.
Optimum Heat & Natural Convection
The Lopi Probuilder Gas Fireplace offers comforting RADIANT heat plus excellent NATURAL CONVECTION to homes and living spaces up to 100sqm* (42 Linear) and 150sqm* (54 Linear). The quiet twin fans available on these models will help increase the air flow distribution throughout your home.
The PROBuilder Series offers more features and benefits than any value-priced linear fireplace on the market. It is also backed by heavy duty construction and quality craftsmanship, to ensure years of dependable warmth!
Easy to Operate
The Lopi Probuilder range offers you the best value for money entry level linear gas fireplaces without compromising on quality. All models feature large viewing areas through crystal clear tempered glass with an attractive flame presentation and sleek linear style.
Our smallest model is the Probuilder 42 Linear which is ideal for smaller living spaces that require less heat such as bedrooms and offices. The Probuilder Linear uses less gas than our Premium HO range but still delivers 25,000 BTUs per foot, enough to warm up a space of 1,250 square feet.
The Probuilder 42 Linear also comes as standard with a wall switch or an optional remote upgrade that includes thermostat functionality. It also features quiet variable twin blowers that can be independently operated from the flame and even be switched off completely.
Fine Mesh 'Clear Fire Safety Screen' – Almost Invisible
A fine mesh 'Clear Fire Safety Screen' is included on every Lopi gas fireplace. It's a strong but delicate little mesh that is mounted 25mm from the ceramic glass to ensure any potential hazards are avoided.
Alternatively, you can opt for a more aesthetically pleasing alternative – the double pane glass heat barrier from Ortal. This is a true heat shield with a hidden fan that actually lowers the temperature of the outer glass to an acceptable level.
It is also the smallest and most economical of Lopi's three models. Using less gas and a smaller firebox, the Probuilder Linear is a good choice for those on a budget, but still want big style. A modern looking forged iron frame paired with black or pewter finish and a wide range of media options is the perfect way to complete your dream fireplace. The best way to find out more about the Lopi Probuilder is to book an appointment with one of our friendly staff to have a chat and discuss your options.
Easy to Install
The Lopi Probuilder series represents the entry level range of linear gas fireplaces. Constructed with heavy gauge steel and featuring large viewing areas through tempered glass, they capture sleek linear style and beautiful flame presentation without compromising on Lopi's renowned quality.
Designed to provide comforting radiant heat plus excellent natural convection up to 100sqm*, the ProBuilder 42 Linear is the perfect solution for providing zoned warmth in family rooms and living spaces. Available as standard with a wall switch, or optional thermostat remote and quiet twin fans that can be completely switched off, these fireplaces are simple to operate and deliver optimum warmth every time.
The ProBuilder 36 Clean Face has contemporary styling and understated elegance, making it a perfect fit for both modern and traditional homes. With a simple trim rather than grills or decorative designer facing, the fireplace focuses all the attention on the tall elegant profile and stunning fire of this beautiful model.