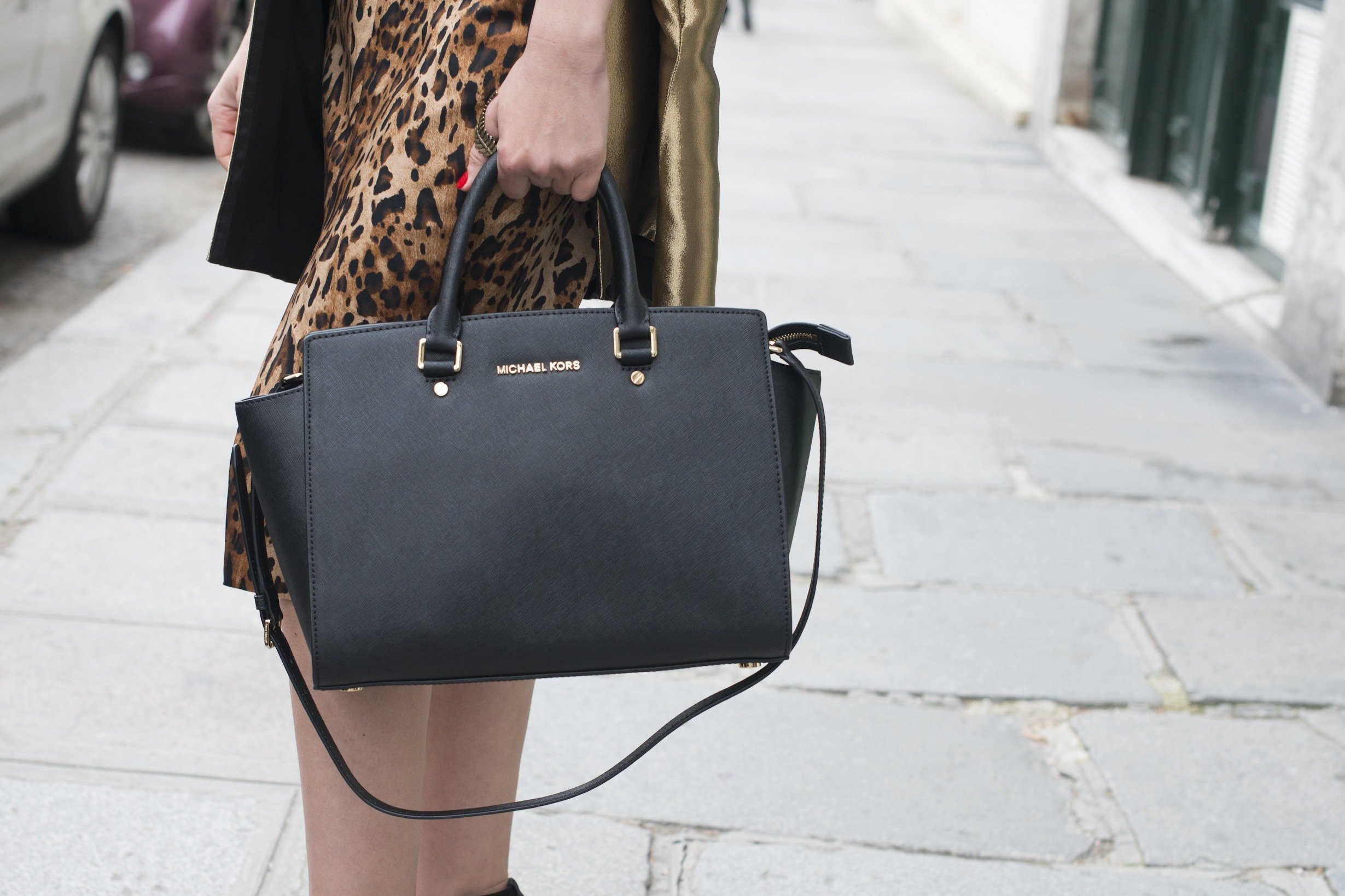 Sophisticated leather handbags are a Michael Kors calling card, instantly recognized by the brand's jet-setting aesthetic. At thredUP, you can score coveted MK bags on sale at a fraction of their retail price, perfect for prepping your wardrobe for end-of-summer soirees. We love this large tote on sale as a summer-ready staple with its exterior pockets and chic gold-tone hardware.
How to Tell a Real Michael Kors Bag from a Fake One
Michael Kors handbags are a coveted fashion accessory by women all over the world. Unfortunately, the popularity of these designer bags has also drawn in counterfeit sellers who try to sell fake MK purses. If you want to avoid getting scammed by a counterfeit seller, there are some simple tips that you can follow to ensure you get a real Michael Kors bag when shopping for one online.
First, you should check to see if the logo on the bag is embossed or printed. The logo should look crisp and clean, with evenly spaced letters and sharp edges. You should also check to see if the logo is centered on the hardware, as some counterfeit bags have the logo slightly off center.
Next, you should pay attention to the stitching on the bag. Authentic Michael Kors bags are made of high-quality leather, and the stitching should be straight and neat. If the stitching is crooked or uneven, then it's probably a fake.
You should also look at the inside lining of the bag. Genuine MK bags will have the brand logo on the lining, either in full form or in short form. You should also look for tiered heat-stamped letters on a natural leather tag that has the MK word logo in it.
In addition, you should check to see if the lining is glossy or matte. If the lining is shiny, it's probably a fake. If the lining is matte, it's likely a genuine Michael Kors bag. Finally, you should make sure the zipper on the bag is branded with the MK name. A genuine Michael Kors bag will have a metal zipper pull with the name engraved on it. A fake MK bag will usually have a plastic zipper pull with the name engraved on it.
The Best Place to Sell a Michael Kors Bag
Buying used Michael Kors bags is a great way to save money. Just make sure you check the serial number and country of origin. This information can be found on the transparent, rubbery tag that is located in a Michael Kors bag. You can also see how much others paid for the same used bag by using eBay's "Completed Listings" feature, which shows you items that have already been sold.
Another place to find a Michael Kors purse is at a buy-sell-trade or consignment store. Many of these stores will authenticate their goods. For example, Plato's Closet will have trained buyers who will inspect a bag to ensure it is real. Clothes Mentor, on the other hand, has a third-party authentication service called Entrupy that will verify whether or not a bag is authentic.
There are also resale websites such as LePrix and Vestiaire Collective that offer a global marketplace for Michael Kors products. Both of these sites have a risk-free service that allows you to return your item if it doesn't sell within 60 days. They also provide a dedicated account manager that will help you with pricing, inventory management, and more. They also offer a free shipping option for US orders and a flat rate of $49 to other countries.
You can also find some used MK bags at department stores such as Nordstrom and Neiman Marcus. These stores typically specialize in clothing, but they will have a few selections of shoes and handbags. Another great option is to shop at a high-end consignment store. These stores will often carry a selection of used Michael Kors bags and will allow you to try them on for size before you purchase.
Another option is to buy a Michael Kors bag from the brand's own website, which offers new and pre-owned merchandise. It is easy to find a Michael Kors bag on sale on their site and the prices are usually cheaper than other resale platforms. You can also find a wide variety of styles and colors to choose from on the Michael Kors site.
How to Tell a Real Michael Kors Watch from a Fake One
Michael Kors is an internationally renowned brand that has earned a global reputation for its elegant and stylish bags and watches. However, because of its worldwide fame, it is also a popular target for counterfeiters and fakes. It is therefore important for shoppers to know how to spot a real Michael Kors watch from a fake one, in order to avoid being duped.
The first thing to check is the packaging. Authentic Michael Kors products come in boxes that are branded with the logo and have clear inscriptions. The box is usually thick and beige, and it should not tear easily. If it does, it is a good indication that the product inside is a counterfeit.
It is also important to check the watch's dial. If the logo on the dial is illegible or has uneven letters, it is probably fake. The letter spacing and font should also be the same as on the box. In addition, genuine MK watches have a specific pattern on the dial that is different from other brands.
Another important feature to look for is the date display. The numbers on a genuine MK watch should be perfectly aligned and easy to read. In contrast, a fake watch may have inaccurately aligned or missing numbers. The date on a fake watch is often also difficult to read due to the incorrect font or spacing.
Other important features to look for include the bracelet and clasp. The bracelet of a genuine MK watch should be made of metal material that is PVD-coated. In contrast, fake bracelets are made of cheap latex-coated thin metal. Moreover, the clasp on a fake MK watch is often poorly crafted and has backlashes.
Lastly, it is also important to check the price of the product. A genuine MK watch will cost at least $160-$425 whereas a fake one will be sold for $10-$53. If the price is too low, it is likely that the watch is a fake.MK bag on sale